As a coach I hear that many times. Here is what it comes down to…self doubt. You see a skill exercise, you walk through it, you watch a coach do it and for some reason you get paralyzed when it's your turn. Why?  Self doubt and lack of trust in your motorcycle.
You can do it. Each and every time.  There are only three things you need to do to overcome this issue.
#1, Focus. Don't think about what you had for breakfast or what you are going to have for lunch or what you have to do at work. Focus on controlling your motorcycle and your ride. Turn your brain off of everything but you and your motorcycle.
#2, Understanding body positioning. Look where you are going not where you're at. In simplistic form it's called "head and shoulders".  When you start a turn look to where you want to be, bring your head around to the point the the chin bar on your helmet (I assume you are wearing a full face helmet??) is just about on your shoulder…keep it there through the turn until you are looking at your exit point and beyond to the next turn.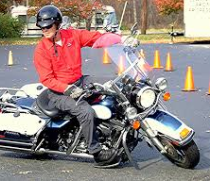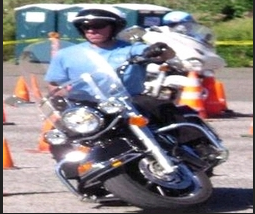 Your shoulders. Keep them square. If you keep your shoulders level, or as level as you can, you can more easily maneuver your motorcycle underneath you. As you can see in the pictures here the riders are upright and and simply bringing the motorcycle around sharply and right underneath them. Here is the key…understanding counterweighting. Slide your butt over a bit to the outside and you have much better balance. Sounds easy and it is but it does some practice. There's that word again. Practice.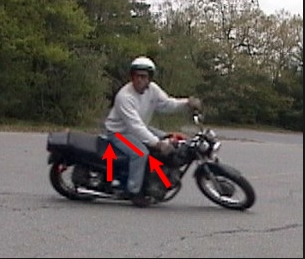 #3, Power management. Practice the Friction Zone all the time. Learn to love your throttle, clutch and rear brake. This Golden Triangle is magic when you learn to manage it. Developing smoothness with all three makes all skills a lot better and easier. These are not on/off switches. Learn how much free play there is in each control, free play is the space between nothing happening and when the control engages. When doing slow speed skills you want to have all three at the ready, your hand is comfortably on the throttle, you have your clutch just to the point of engaging ( this is where you can develop "Feathering" the clutch), and have your foot on the rear brake just lightly enough  that you can easily 'control' it and keep you balanced.
If you practice these three things regularly  you will have that moment when you say "I can do it". And say it with confidence. Trust in yourself and your motorcycle.
Ride safe, ride far and love your motorcycle.
Paul