…in your riding skills and style that make a world of difference in your riding experience. It's called control.
Learning control takes practice and discipline.  That is just plain boring. Riding around a parking lot doing Throttle Control stuff, tight U-Turns , 90* turns from a stop, pulling into a parking spot at Sears (does anybody go to Sears anymore?) Emergency Braking, Obstacle Avoidance…the list goes on and yes it's boring. Until, you make it a game, either with a riding friend or just competing against yourself.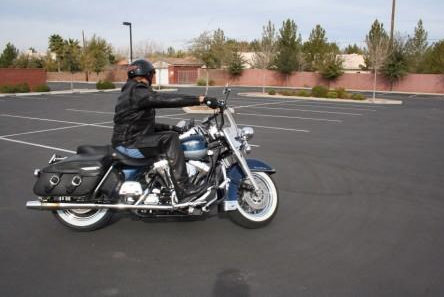 At Motorcycle Coaching 101 we have a number of exercises that you can do on your own. Let's take the 'Slow Race', how slow can you go in 50 feet? This is all about managing the Friction Zone…the Golden Triangle', Throttle, Clutch and Rear Brake. Go to an empty parking lot somewhere, and visually mark off about 6 parking spots (because most parking spots are 9′ wide) then go as slow as you possibly can controlling your speed with the Friction Zone. The key to this exercise is maintaining a smooth throttle hand and using your clutch and rear brake to control your speed. A big part here is keeping your head up and your eyes out. I know, we've all heard that a million times but we have to repeat it to ourselves another million times!
When we look down at where we're at (our front wheel or the curb or the cones in a coaching session) we all tend to drop off the throttle and now we have less control of our motorcycle. Learning to trust your throttle takes practice. We can practice this in our daily riding…when coming to a stop sign or a traffic light slow down and practice the Slow Race as we're approaching the stop. It's easy and it helps develop "FEEL". I want to always know when all three ingredients  (the Golden Triangle) start to work together.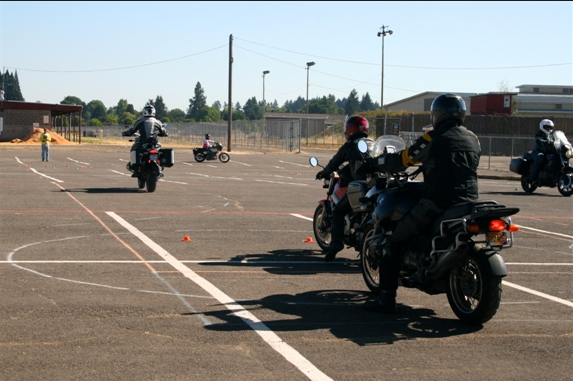 This skill is not just for parking lots or coming to a traffic stop, it works perfectly in all traffic situations and on curvy roads where all the CONTROL FACTORS have to come in. Learn to use your throttle. Yes, it can get you into trouble but it is also the tool that will get you out of trouble once you have the understanding and understanding takes practice. So go out today and do some practice. That is where I am headed.
Ride Safe, Ride Far and I'll see you on the road. Or, maybe in a parking lot sometime.
Paul