Bueller?, Bueller ?…Ok , you have to be of a certain age to get that one.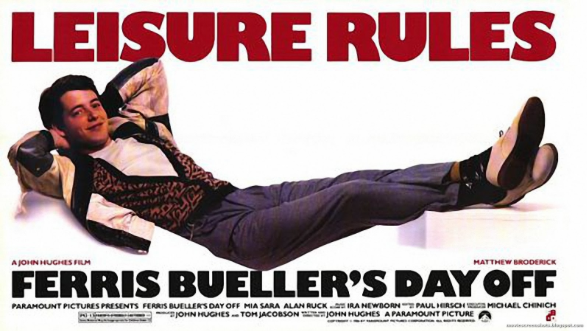 We all sat in Algebra class and asked ourselves what the hell good is this, I don't need to know this crap. What good is it going to do me? It takes a while for us to figure it out. But, we at some point, get it.
Learning how to control your motorcycle, not just ride it, can be boring… until the moment comes that your motorcycle obeys you and not the other way around. Look at the picture above (it's great movie by the way) but, on a motorcycle, leisure doesn't rule. You have to be engaged all the time.
Being engaged with and to your motorcycle takes time and effort. I went from lightweight Sportbikes and an Adventure bike to a behemoth of two wheeled transportation. A Yamaha Stratoliner. Eight hundred pounds of…"what was I thinking?". So, being a professional motorcycle riding coach I had to go practice what I preach which is…PRACTICE and then PRACTICE MORE. Off to the parking lot I went.
Where are the limits of this motorcycle? Where are my limits on this motorcycle? And where do I find them? It starts in a parking lot.  I set up my regular training course. The Slow Race, U-Turns, 90* turns, Obstacle Avoidance,Tight Circles, Counterweighting,and Quick Braking. Whew…No wonder my clients don't like me, I don't like me.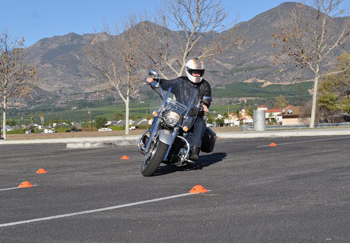 After nearly a full day in the parking lot my motorcycle and I were going steady. We got tight circles down to and even tighter than my Adventure bike (it's really pretty cool to hear and feel the floorboards scrape the ground…I'm down to the point now that I can take one off my bike and shave with it!!!?), Stopping distance was, well..a little longer ( I also worked on "Threshold Braking"…right to the point of losing traction just to see how it feels on a bike this big), I did these exercises over and over until I thought I was going to be sick. My wife brought lunch to me and then I kept practicing.
Day two was up into the curvy roads. This bike is long!!! Even longer than a Harley Davidson Road King by 4 inches! With a bike this big, it takes a while for it to respond so I had to adjust my cornering technique. This was the day I really got to work on Countersteering. I was shocked…and in a very good way. The new bike is very light on it's feet. She moves when I want her to and when I am light on the controls it's almost like a walk in the park with a more svelte girlfriend. I rode that particular road (which I use for coaching a lot) for hours, pushing the limits within my comfort zone and then some just to see what I can do with my new motorcycle.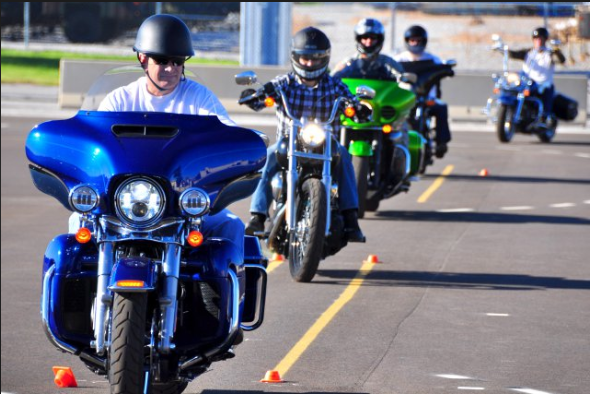 So, what was the point of this drivel? You can't use a skill you don't have. Good riding takes practicing the things you have learned and practice them regularly. Every now and then, instead of having a casual ride with a couple of friends, go practice. Challenge each other, make it a game but a serious game. You would amazed at how much better a rider you will be with a couple of hours of practice on a regular basis.
So on that note, I'm heading off to the parking lot.
Ride Safe, Ride Far and I'll see you on the road,
Paul
Yeah, that's me in the middle picture. I need to practice more…