Paul Nielsen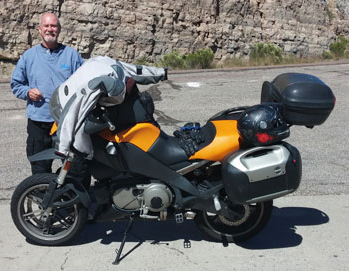 I started riding motorcycles at 14 years old. I rode my dad's brand new Honda CB160 right into the back bumper of his also new Chevy Impala. A rather auspicious start to a long career in motorcycling. At 16 I started racing: desert and Enduros and then started road racing at 29. A few wins here and there and a couple of class championships made for a fine racing career.
I rode a motorcycle (my sort-of street legal Bultaco Matador) almost every day through my senior year in high school and from there it was on to British twins through my college years. Since then, I have ridden nearly one million miles on a motorcycle. I have travelled, it seems like, every back road throughout the southwestern US, western Canada, and parts of Mexico. The world looks a lot better from the seat of a motorcycle.
I have worked with motorcycles and the motorcycle industry most all of my life. From selling motorcycles, to working as a sale rep for manufacturers and suppliers, racer support of a brake company, a tour guide, and a moto journalist.
My qualifications as a riding coach start with having gone through a number of riding schools and programs myself and learning to overcome my own bad habits. I've helped new racers at Willow Springs Motorcycle Club (and learned a lot from them as well!), worked with California Superbike School and MSF instructors.
My goal is to help you become as comfortable on your motorcycle as you are in your car. I want you to ride your bike to work instead of drive your car and then take the long way home.

Les Brown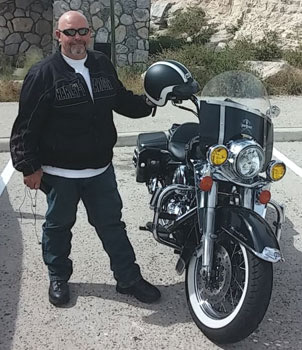 I started riding motorcycles at 10 years old, dirt bikes to be exact, and by 18 I was racing along-side the top amateurs and semi pros in southern California. At 19 I got my first street bike, a Yamaha XS650 I wish I still had it! Since that time I have owned or ridden almost every type and brand of motorcycle made. I love motorcycles!
As an engineer by profession, actually more of a "reverse engineer," which means we looked at something that failed or wasn't working properly, dissected it and fixed the problem. From there it was heading teams and taking what we learned in the lab to the field and teaching others new techniques and skills. The beginnings of my life as an instructor.

During my thirty plus years of riding motorcycles, I had a number of friends ask me if I could help them with their riding skills. I learned that I was good at helping riders become better and safer motorcyclists. I myself began taking specialized rider training (sheriff motor officer training and other programs).

After honing my own skills and through the suggestions of friends I started Motorcycle Coaching 101. My goal was to help beginning riders learn the skills they wouldn't get through the basic courses. I also found that even experienced riders needed help overcoming bad habits and learning new skills. I have coached riders that just got their first motorcycle to riders that have been on the road for 50 years. I am a Harley Owners Group (HOG) Road Captain and Road Captain trainer.
I consistently continue my own training so I can bring the best to motorcycle coaching.